The West Window
The West Window by Hugh Easton actually depicts the story of the Church of England.
Find below a detailed account of all the personalities.
For all those who enjoy a frustrating puzzle try to unscramble the West Window here
Click the different hot spots on this picture to find out more about this historic window.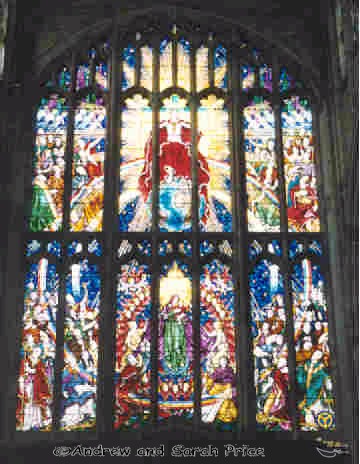 The West Window Geography
top left personalities:
ST OSWALD with outstretched arm
THE VENERABLE BEDE AND
DEACON
ST BRIGHT
ST PATRICK with green cross
ST AIDAN
ST COLUMBA

Christ in Majesty
seated on the rainbow with feet resting on the world

top right personalities:
ST JOHN THE BAPTIST holding cross
ST LUKE
ST PAUL holding sword
ST TIMOTHY
ST STEPHEN and apostles
ST AUGUSTINE OF HIPPO
ST AMBROSE

Lower Left: Leaders and scholars
of the church
ST AUGUSTINE OF
CANTERBURY
ARCHBISHOP CRANMER
JOHN WESLEY
ARCHBISHOP TEMPLE
BISHOP GORE
A representative priest
BISHOP LATIMER & RILEY
Martyrs
ST THOMAS MORE
HUGH of LINCOLN


Our Lady
with the
Holy Child

ST JOSEPH ST JOHN

Lower right: Leaders of the monastic
movement:
ST FRANCIS of ASSISI
ST BENEDICT ST DOMINIC
ST CATHERINE OF SIENNA holding cross
ST THERESA holding quill pen
ST JOHN of the Cross
JACOPONI da TODI
ST IGNATIUS
Before leaving please sign our Guest Book and let us have your comments and ideas!
Please email us on Sarah@take-a-pew.org.uk if you have any queries or spot any broken links or other problems with relation to this site as we want it to work for you!
[ Home ] [ Up ] [ Christ in Glory - West Window ] [ West Window Detail ] [ West Window - Mother and Child detail ] [ West Window Detail - Cherubs on rainbow ] [ West Window Detail ] [View Guest Book] [Sign Guest Book]
PLEASE NOTE: These are historic pages of Holy Trinity Church and the church interior may have changed since our photographs were taken as they do not post date 2005.
CAVEAT: This site is not run by Holy Trinity and has no connection with the church. Any opinions expressed, therefore,
do NOT reflect the views of the official body of the church, Holy Trinity Church, Coventry.
We run this site on a purely unofficial basis only.
All photographs are copyright Sarah and Andrew Price unless otherwise specified. For the complete accuracy of
third party articles please consult the original owners. No responsibility can be held for any accidental inaccuracies or typographical errors.
Although much of this material is copyright, we still welcome links to this site from other related topic sites.
All that we ask is...........there is NO offensive material on the linking site.
No official information is held on this site.
Owned and run by Sarah and Andrew Price on their personal web space.
Copyright © 1999, 2000, 2001 2002,2003,2004,2005, 2006, 2007 ,2008 Sarah and Andrew Price
Updated 16/11/08